New Gift from Rubenstein Family Will Support Research Vessels and Honor Legacy of Ian deGroot '79
By Ben Yousey-Hindes
It's all connected," says Beverly Rubenstein. "The water, the air, the land—it all goes together—and we all live here on earth, so research that benefits the environment benefits everybody."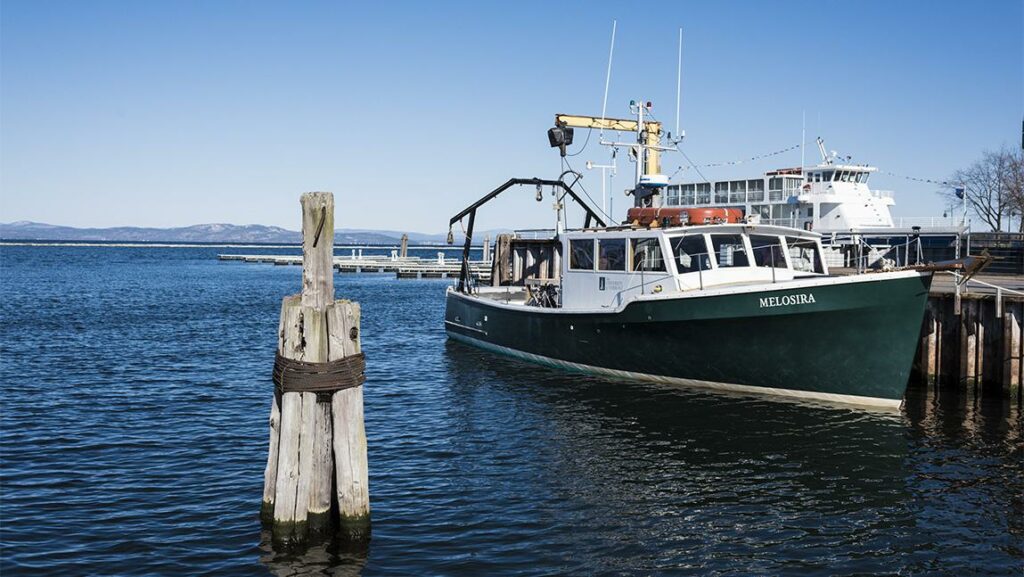 A generous new gift from Beverly and her son Andrew to support the University's research vessels will help generations of University of Vermont students and researchers better understand the interconnections between the broader environment and freshwater ecosystems. This, in turn, will benefit communities across the country and around the globe who depend on freshwater ecosystems for drinking water, food, tourism, commerce, transportation, and natural resource production.
"I am deeply grateful to Beverly and Andy for this generous gift," says Nancy Mathews, Dean of the Rubenstein School of Environment and Natural Resources. "Their ongoing support for the School that bears their family name is truly inspiring. It means a tremendous amount to know that they believe so strongly in our students, faculty, and staff and the positive change they will bring about through their advocacy, leadership, and scientific discovery."
UVM's boats are critical infrastructure for the research, teaching, and community outreach missions of the Rubenstein School. With the Lake Champlain region as their principal research site, faculty, staff, and students study the complex ecology of lakes and their watersheds—and how human activity and climate change are affecting them. Understanding these issues is imperative to fostering public policies and personal behaviors that will protect and improve water quality, animal habitat, and economic productivity for future generations.
A state-of-the-art new research vessel (R/V) is currently under construction and scheduled to be plying the waters of Lake Champlain in 2022, replacing the well-known R/V Melosira. The 64-foot hybrid-electric aluminum catamaran will serve as a seagoing classroom and laboratory for UVM classes as well as middle school, high school, and public groups taking part in the National Oceanic and Atmospheric Administration's Lake Champlain Sea Grant Watershed Alliance education program.
The Rubenstein family has a long and exceptional history of support for the University that goes back to the 1990s, when Steven '61 and Beverly made a gift to name the Rubenstein Ecosystem Science Laboratory on the Burlington waterfront. In 2003, the family donated the largest single gift in UVM history to that point: a $15 million commitment to support environmental education and research. With this gift, the School of Natural Resources became the Rubenstein School of Environment and Natural Resources, the first named school or college at UVM.
Steven was a charter member of the Rubenstein School Board of Advisors until he passed away in 2008, and Beverly and Andy proudly carry on his legacy as members of that body and as benefactors of the School. After Steven's passing, Beverly and Andy launched the Steven and Beverly Rubenstein Charitable Foundation in order to continue advancing Steven's charitable objectives in the United States and abroad, including his vision for UVM to be a premier environmental school. The Rubenstein Charitable Foundation was awarded the University of Vermont Foundation's Lifetime Achievement in Philanthropy Award in 2017.
The Rubensteins' new commitment has established a permanently endowed fund that they have named in honor of Ian deGroot '79, UVM's former Vice President for Development & Alumni Relations who passed away in 2019. Steven, Beverly, and Andrew met Ian early in his career at UVM and developed a strong professional relationship that also became a close and vibrant friendship. Ian worked closely with the Rubensteins as he progressed through a distinguished career at UVM, helping them make philanthropic investments that advanced both the University's priorities and their own. After he left the University in 2007, Ian pursued a successful career at Morgan Stanley, where he served as a trusted advisor to Beverly and Andrew in their capacities as trustees of the Rubenstein Charitable Foundation.
"Our relationship with Ian goes back a long time, and we were always friends and partners with him throughout the years," said Andrew Rubenstein. "He played an important role in helping us leave our footprint on the University of Vermont, and on the topic of the environment more generally. He was instrumental in educating my father about the value of supporting UVM and showing him how UVM was the perfect place for major philanthropic investment focused on the environment. We couldn't think of a better way to recognize Ian and his contributions to UVM than naming this fund in his honor."
"Ian had a gift for connecting with people, and I was so lucky that he often included me when he met with the Rubensteins here in Burlington," said Amy deGroot, Ian's widow. "Their choice to name the fund to honor Ian this way is just astonishing to me—it's breathtaking, absolutely breathtaking. Our whole family is so touched and I can just hear Ian saying, 'This is so stunning, Amy.' It's incredible that they were moved to express their connection to him in this way."
The Rubensteins believe that the gift—and naming the fund in honor of Ian—were the logical next steps in their support for the Rubenstein School and its environmental work. In Beverly's words, "it's a natural thing."
To learn more about how you can support UVM and the Rubenstein School of Environment & Natural Resources, please contact the UVM Foundation at (802) 656-8600 or foundation@uvm.edu.